Why a velomobile?
Velomobiles are faired, aerodynamic, recumbent bicycles, mostly with two front and one rear wheel. Thanks to improved aerodynamic properties, velomobiles reach higher speed with less effort compared to classical un-faired bicycles, offering on top more comfort and better all-weather protection.
Last years several velomobile brands developed from basic to more professional constructions, pushed by a growing market of customers who choose this vehicle for diverse reasons: to reach the highest speed with own leg power, to use an efficient, economical, all-weather and healthy solution for sustainable daily commuting … or just to enjoy the fun and adrenaline of driving it.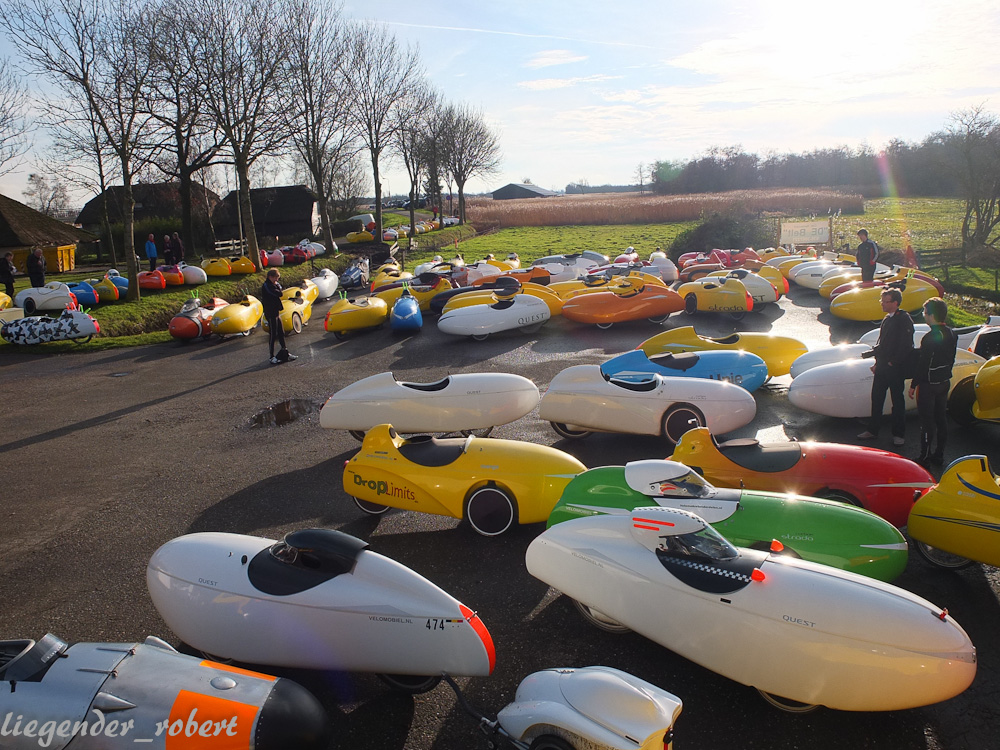 Why a WAW?
The WAW was originally build by Frederik Van De Walle, for own use and for a couple of friends, as a fast road velomobile, also for stretches with frequent and short turns, practical enough to be enjoyed for daily use. The WAW today is still totally in line with this basic concept but had to be redeveloped completely to meet efficient production methods and higher quality standards, conditions in order to make the WAW a successful product in a broader and professional market.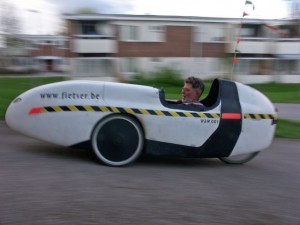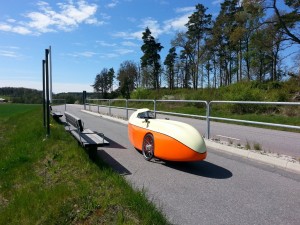 Its low gravity point, wide front wheel track and stiff suspension contribute to an excellent stability in curves. The sportive tank steering with separate brake levers activating robust drum brakes provide powerful braking and stable track control also at higher speeds.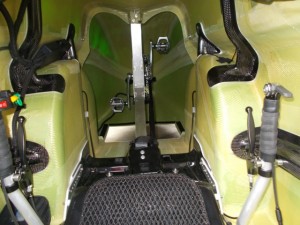 Nose and tail fairing can be swiftly removed from the central part. This feature is unique for the WAW, the higher complexity and cost in production are worth the many practical advantages:
- Easy access to parts which need regularly attention: rear wheel, chain, cranks, shifting mechanism, …
- Exchange damaged parts is often less costly then repair a complete body fairing.
- High degree of customization selecting from a broad choice of types of nose and tail fairings.
- Possibility to mount any type of transmission including all types of electro assists engines.
- Compact way of transporting.
The actual standard WAW version can be set to fit body lengths from 1,6m till 1,9m by selecting the optimal position of seat and cranks. For tall and broad people points of attention are space for knees, shoulder width and width of upper legs.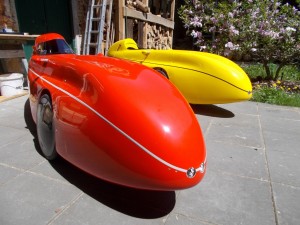 Adding to all those pragmatic features the WAW has something more that continues to seduce many people in the world. It's sportive, Italian, design look?
SPECIFICATIONS
Standart WAW dimesions                                 Choices in WAW, nose and tail farings                                       WAW electric schema
Standard WAW
| | | | | | | |
| --- | --- | --- | --- | --- | --- | --- |
| Transmission | | | | | | Transmission 2×9, Front: 53-33, 160mm cranks. Rear: Shimano Deore 11-34, top shifters Microshift, SPD pedals. |
| Front wheels | | | | | | 20", MacPherson suspension, Kojak 35mm tires, 70 SA drum brakes with parking position |
| Rear wheel | | | | | | 26", Marathon Supreme 50mm, hardtail |
| Turning radius | | | | | | 9,5 m |
| Seat | | | | | | Suspended composite seat, adjustable position in length, height and angle, ventisit seat pad |
| Integrated electric system | | | | | | 2x B&M headlights, turning lights with buzzer, rear light with brake function, additional LED lights in mirror caps, electric horn, Li-ion 11,1 V, 6,6Ah battery pack and charger |
| Standard accessories | | | | | | aerodynamic wheel cover on front wheels, man hole cover, race hood with vizor, speed meter, pump with tube repair kit |
| Gelcoat colours | | | | | | black, white, blue, green, red, yellow, orange |
Models/Options/Pricelists
In next PDFs prices EX WORKS: Czech Republic. Our shipping partner delivers to your door. Contact us for a complete offers.
      Export with 0% VAT                        EU with 21% VAT
Distributors
Click here for the list of velomobile distributors and their region