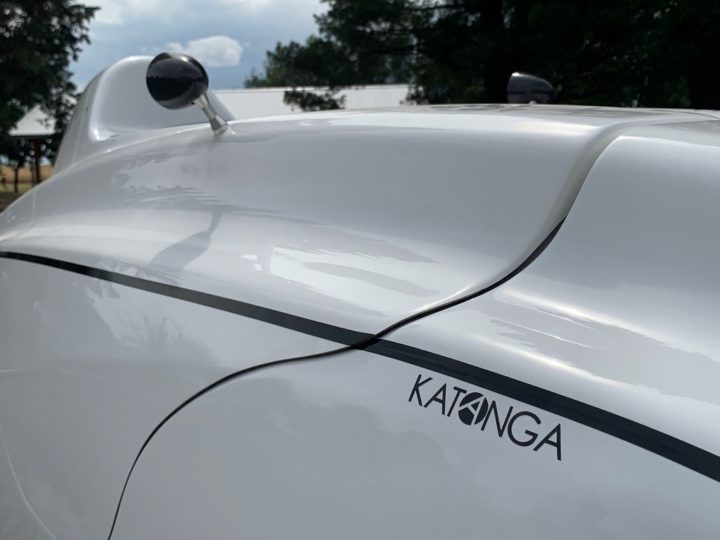 UPDATE VM45 project
At previous update we were in the middle of the production of models and forms for the body parts. The biggest, central body part, was milled as last and this was a very critical milestone. Due to the size it was milled in several steps from several blocks of foam which were afterwards glued together. A carrier from wood and steel was built to move this piece without damaging it. It was necessary to keep this big part suspended because it was milled from  PU-foam of 30 kg/m3, which is so soft that the milled model would be damaged if put on the ground. Transport from the miller to the producer of forms was done very carefully. While last finalized the model and prepared it for the form production, we created a structure to define the position of the separation between the different forms around this model (upper, under, left side and right side). We choose to do that with the computer model in order to obtain a more precise result and symmetry than if done manually.  Those who wish to know and see more about above can watch next Laidback Bike Report.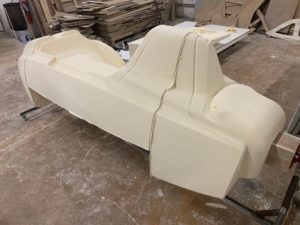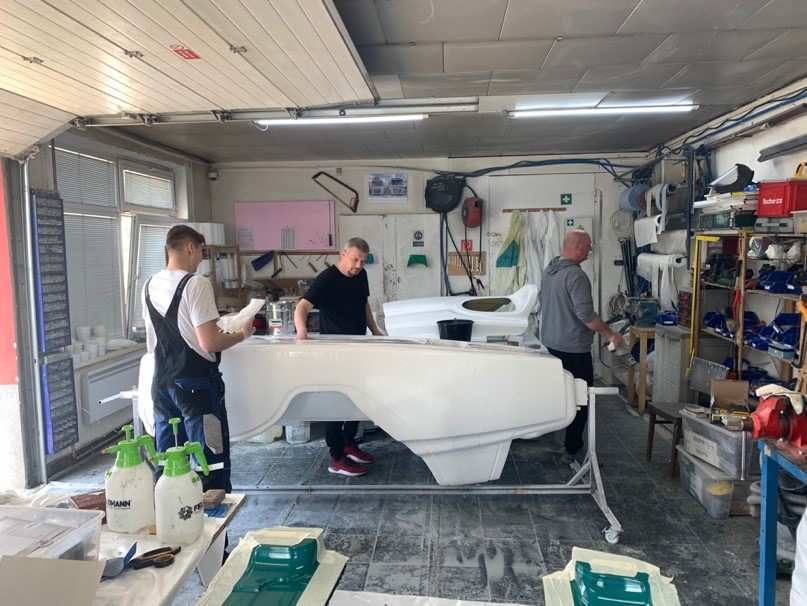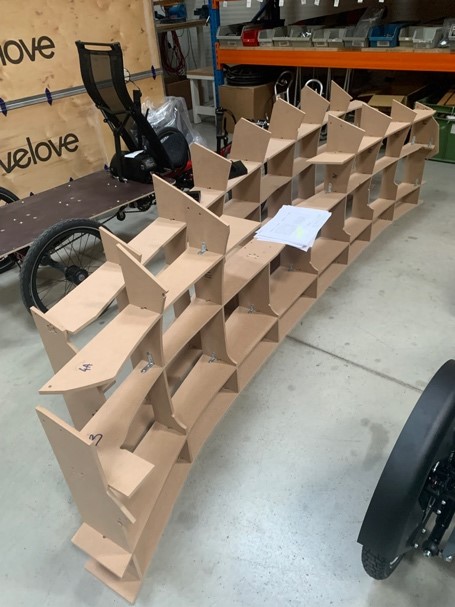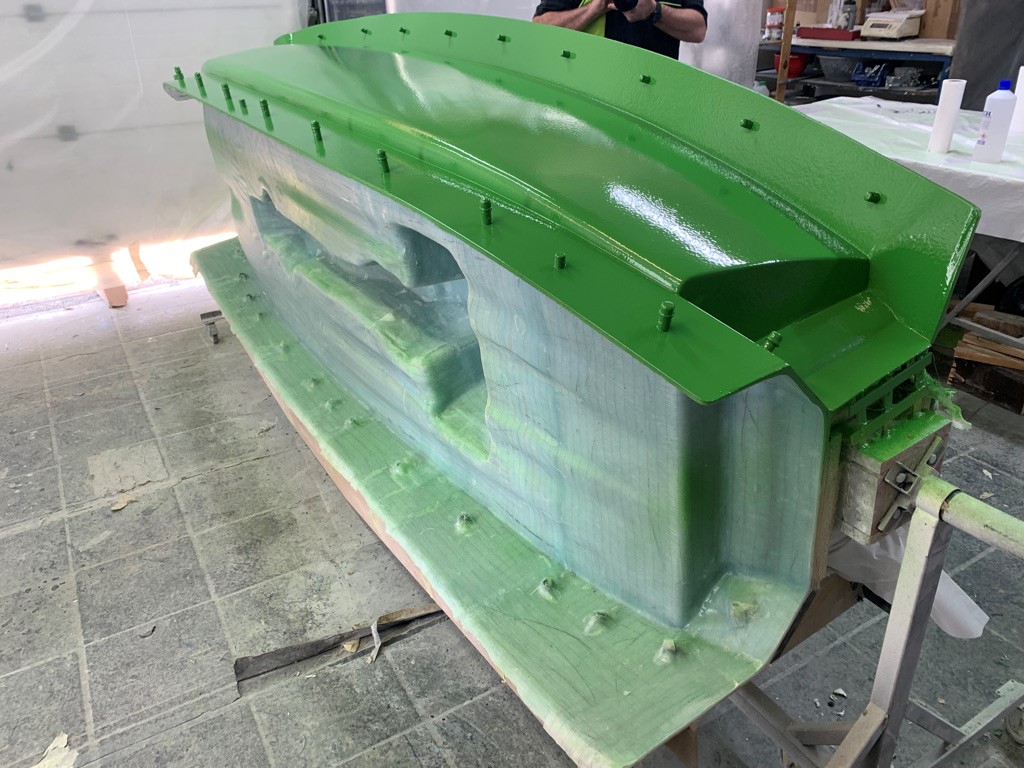 This whole process took more time than planned and we only got the first body parts during the month of May. The first set was not yet cut exactly as needed and with the help of printed paper plans or 3D printed jigs we defined where to cut holes and borders of doors, entry holes, wheel openings etc. Some reinforcement also needed to be glued exactly on the right place. Then came the moment of truth… do all parts fit correctly together? Thank God, yes! It took some time and the cuttings needed to be adapted but once done properly the result was perfect. Even the door hinge system worked exactly as hoped.
As all other parts for the drive train, suspension, transmission, steering and lights where ready, assembly continued without delay. It was nice to see how well our team worked together, how everybody came with ideas and proposals how to solve issues and how at the end of each day the progress was visible. By the end of May the first VM45 was standing on its wheels. Entry door and back door with a lock system were mounted and finally the electric system with lights & horn and the removable race hood.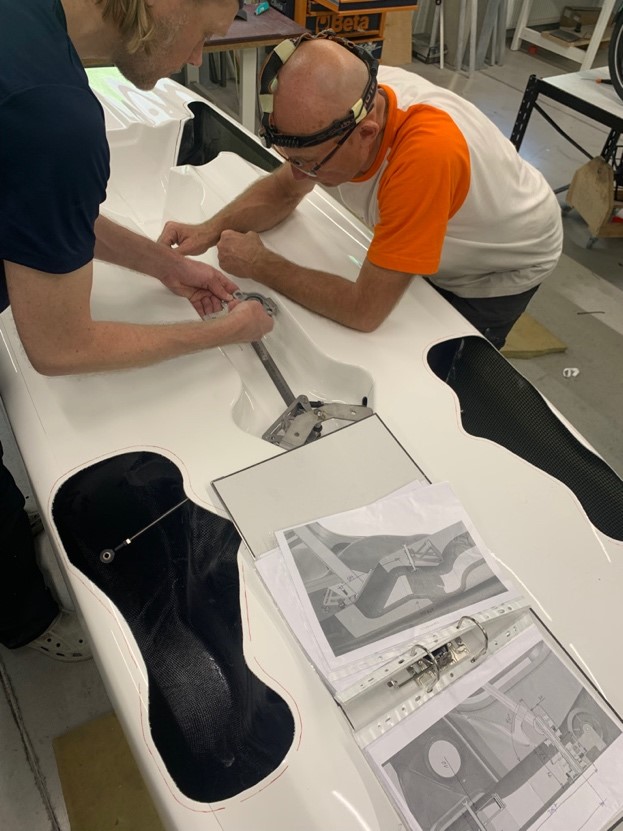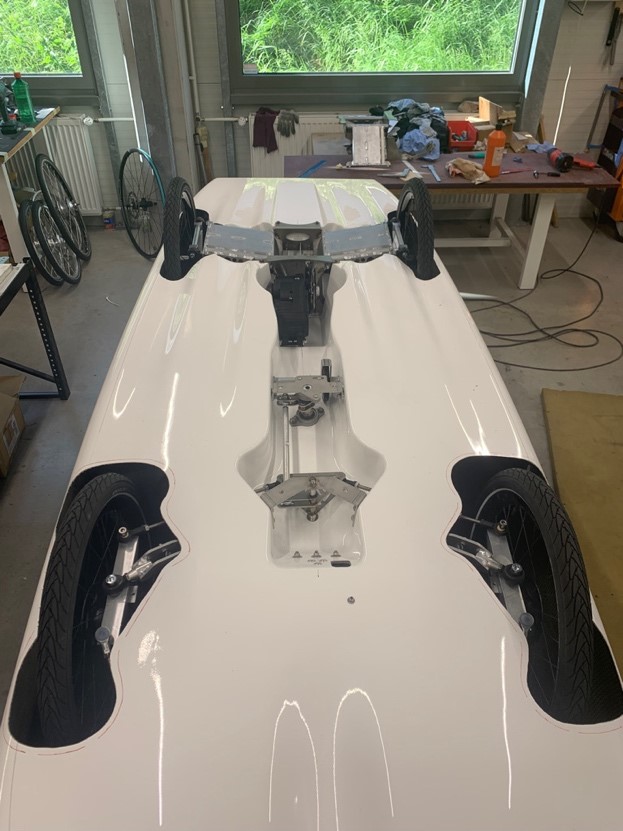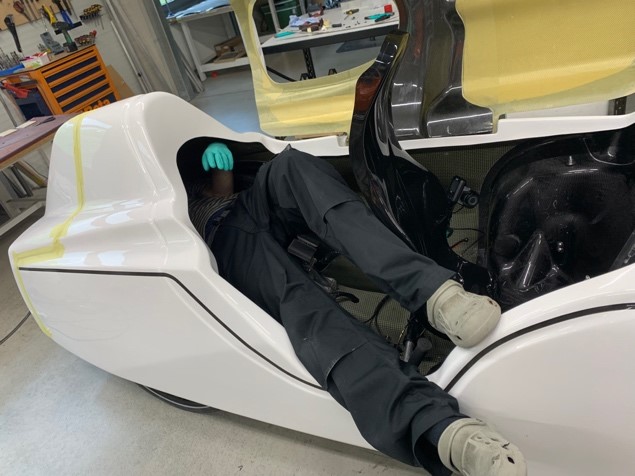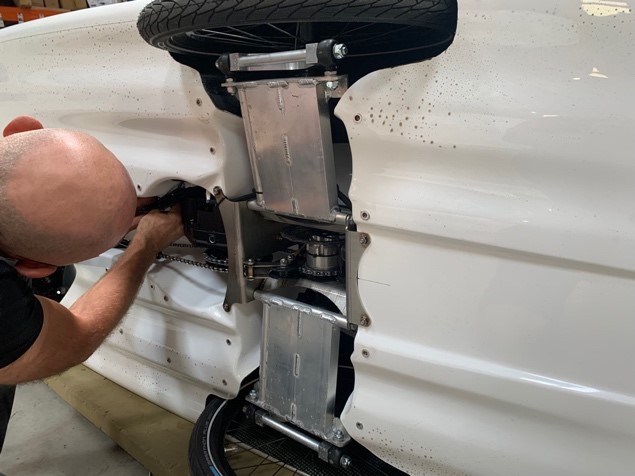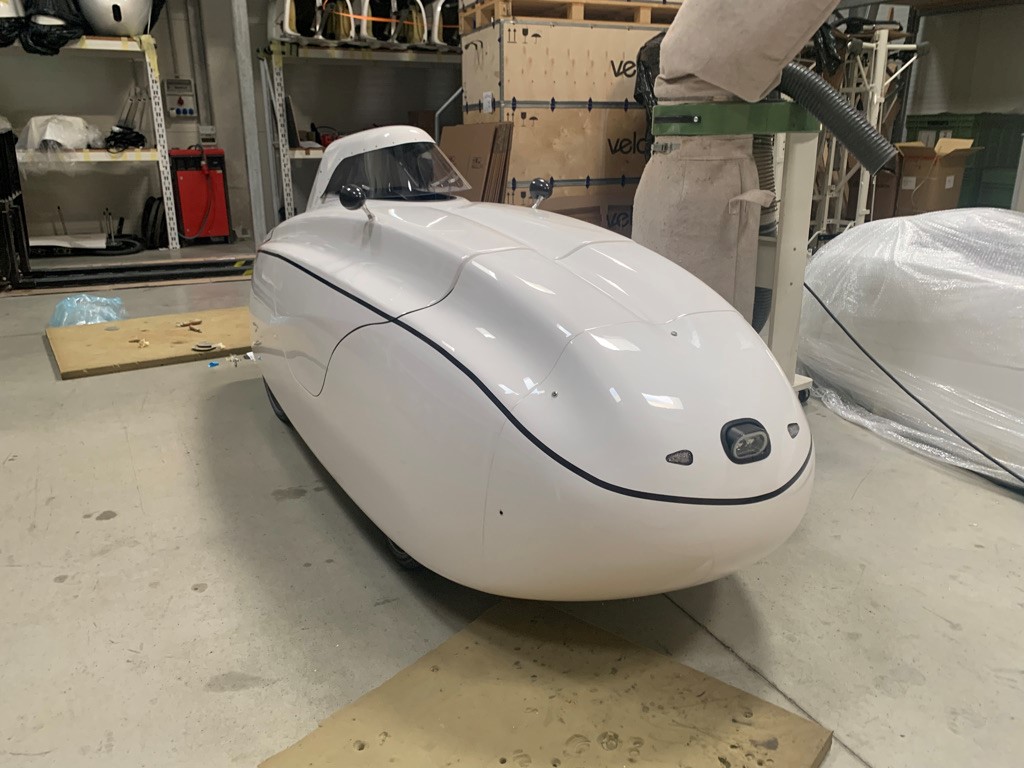 First testing around the work shop was very exciting! Longer tests were done at our new site in Vratěnin. We made a small presentation of the VM45 in video form.
Stepping in and out is so easy thanks to the big entry door and the low entrance level. The dimensions inside and space for luggage are very generous. My dog can enter through the rear door and has place to travel with me. The design is clean and attractive, with some audacious but at the end successful features like the asymmetrical entry door and the back hatch. The construction is robust and stiff, the wheel wells glued inside the body have a specific form to reinforce the body from inside. No part is flat, even the bottom received a wave form to increase stiffness.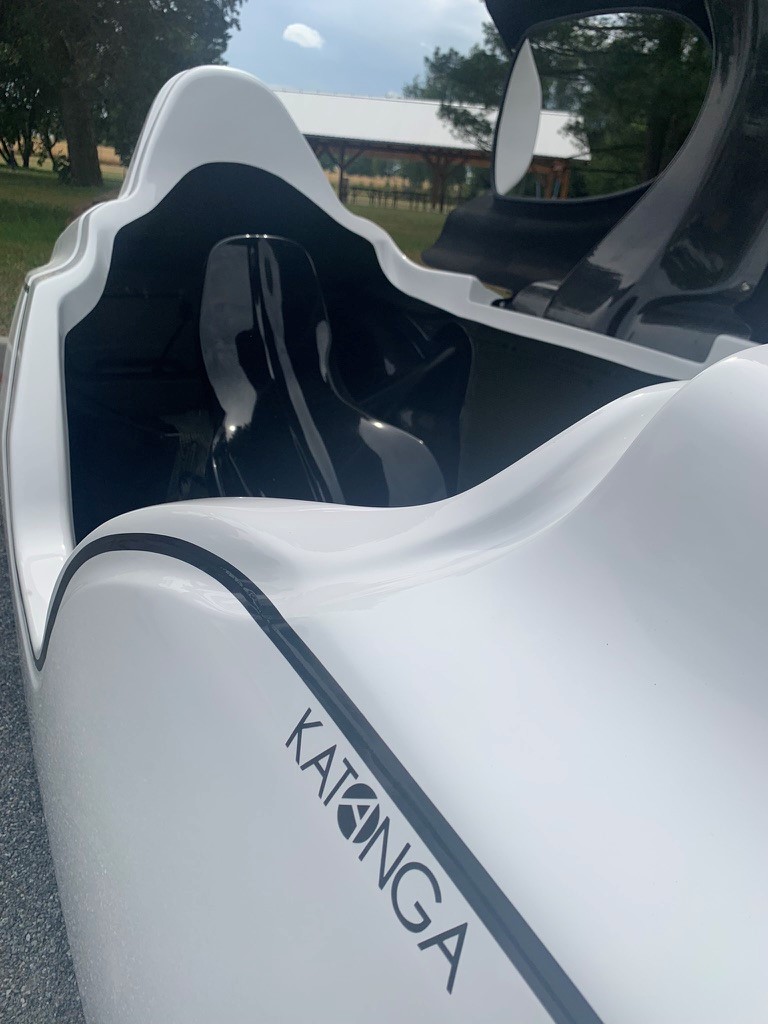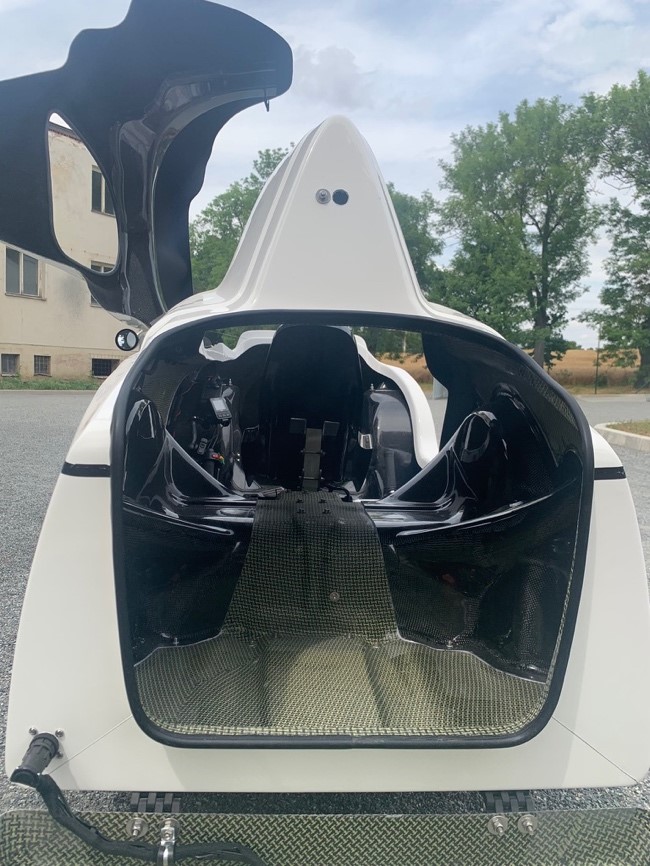 The Valeo-Cyclee Mid-drive integrates motor and gearbox. The unit is very powerful and has several innovating features: the automatic shifting works great and the reverse drive is a legal requirement for the VM45. It seems to be a perfect choice for the VM45 and Valeo has set out a road map for solving features that are not yet working well or not active at all. One of them is regeneration, which is a complex thing as regeneration currents can be very high and should not damage battery or electronics. In parallel, we need also to do lots of testing to fine-tune the parametrization of this unit before we can use its full potential. The noise created by the Valeo-Cyclee is quite high in comparison with other E-bike motors. On the VM45 I do not feel noise to be such an issue but less would indeed be better. Valeo is working on lowering the noise and the result will be ready before the end of the year.
The cruising speed is 45 km/h as this is also the maximal limit for the e-assist. At this speed the motor is only assisting just enough to keep this speed. Thanks to the efficient aerodynamics and the low rolling resistance this does not consume much energy and the range with the 1240 Wh Li-Ion battery exceeds largely 200 km in ECO mode. Not too steep hills do not slow the VM45 much under 45 Km/h which helps to keep high average speeds from doorstep to doorstep very close to those of a car.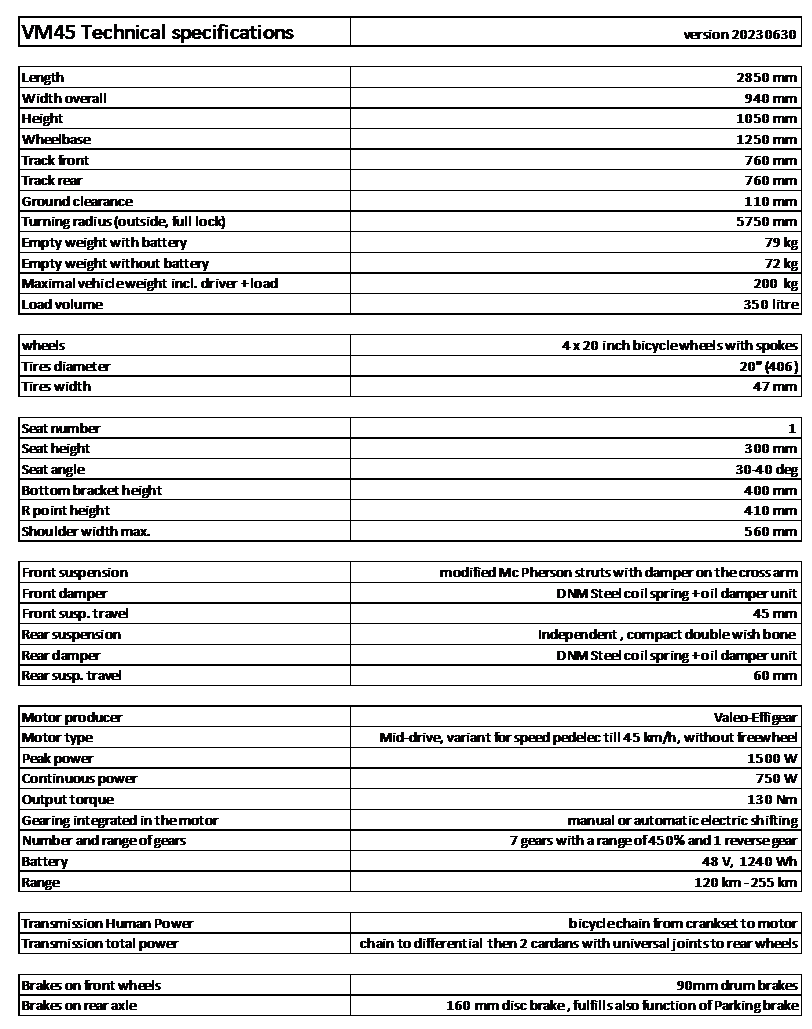 The motor multiplies the strength in your legs in such way that you still feel that you are cycling and not sitting in a small electric car. The ride-feeling and the extremely stable cornering motivates you to ride sportly and pedal hard but you can also decide to ride relax. The front suspension is stiffer and has a shorter travel than the rear suspension, which is much softer. This contributes to a good adherence on the road even on gravel and a perfect traction. Indeed, thanks to the independent, soft rear suspension and the very low unsprung mass of the rear wheels, the use of the differential does not result in loss of traction due to a slipping rear wheel but to a permanent traction equally divided on both wheels.
Steering is very intuitive and even at high speeds in windy weather you stay under control. The brake capacity of the drum brakes on the front wheels is very efficient and the inboard disc brake on the rear axle will help mainly as a parking brake and in big descends to overcome overheating of front brakes.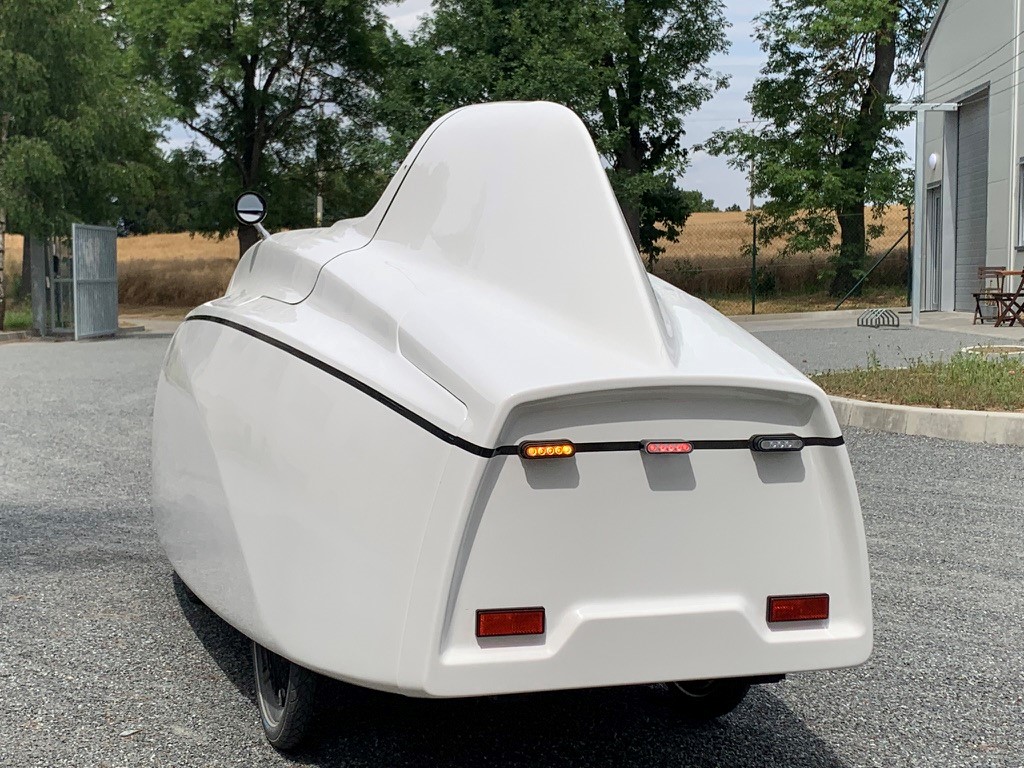 Lights and horns are powerful and selected for the category L6e-A. The head light has 3 functions: position light, passing beam and driving beam head light. The rear light incorporates also the stop light and the rear registration plate lamp. Nice direction indicators, a powerful motorcycle horn and retro-reflectors complete this equipment.
That far for the update. Now we first need to recuperate and take some rest, the last months have really been very demanding.  From September on we will work in parallel on one side durability tests & solving all child-diseases and on the other side the type approval as a light on-road quad for having the legal possibility to enjoy e-assist till 45 km/h in the EU. Difficult to estimate how long that might take but less than one year would be too optimistic. Till we are well advanced in this process we prefer not to take orders for a homologated VM45.
A possibility to start up sooner with sales would be to offer it as an electric bicycle version, limited to 25 km/h and a nominal 250 Watt motor for which no complex homologation process is required. Another possibility would be to make a variant without motor at all on which common mid-drive motors can be installed by the customer. Both last versions could start up much faster. It is difficult to communicate already now final sales price as we will need to negotiate prices for special components but roughly estimated a variant without motor would cost EXW 11.000 EUR before VAT and a version with motor EXW 13.000 EUR before VAT. Let us know if you have any interest in those variants.
After our previous Update we received many support, positive reactions and advices from you. You have sent several ideas for a commercial name for the VM45, we did not made a final selection yet but have some favourites and will decide soon.
There were also several questions and for time reasons I could not react on all of them. I hope that this newsletter clarified most of the open questions.
Let me close this letter by thanking all who participated in this development project: the whole Katanga team, our suppliers who work in partnership with us, our customers and dealers, the Brno University of Technology and you, who follow the progress and support us.
Vratěnín, 22th of July 2023.