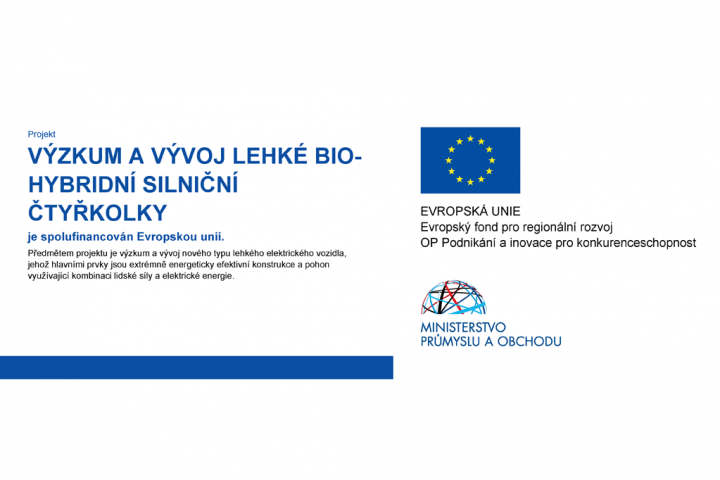 VM45
Katanga started in January 2021 a R&D project needed to produce a new type of LEV: a light bio-hybrid on-road quad, with a range of 200 km thanks to an extreme energy-efficient construction and the use of leg power in addition of the electric power. For simplification, we name it for the moment "VM45".
Such a type of vehicle is today not yet offered on the market and type-approved. The EU Regulation No 168/2013 defines the requirements for this vehicle which falls under Sub-category L6e-A, Light on-road quad. Legally this is not a bicycle anymore which means that we can mount more powerful engine(s) than the nominal 250 W allowed for bicycles in the EU and the motor can assist till 45 km/h instead of till 25 km/h.
We are convinced that there is demand for such a product on the market. Some persons can, on pure human power, with a light WAW or other velomobile, on relative flat and good quality roads, reach high average speeds too but these conditions are often not met for most of us. The VM45 is an answer to that. As weight will be less critical thanks to more electric power, we can compromise more on weight in favour of more comfort and safety.
The project is planned to take 2 ½ years and we will study and test several different combinations of motorization, power transmission, regeneration, gearing, steering, suspension, faired body constructions etc.
Where ever possible production techniques used for the WAW will be used to increase the chances of success of this project. An aerodynamic self-supporting composite body is an obvious choice for this vehicle as it provides a light weight and energy efficient solution. Not only technical questions must be well solved, also the requirements to apply for type-approval must be taken into consideration from the beginning of the project.
Such a project would be difficult to carry alone so we partner with the Brno University of Technology and obtained a grant from the EU. Several of our business partners are also actively working on this project. We are very grateful for this help.
At regular interval progress in this project will be shared on the VM45 page.
VM45
V lednu roku 2021 Katanga odstartovala výzkumný a vývojový projekt nového typu nízko-emisního vozidla: lehké bio-hybridní silniční čtyřkolky s dojezdem 200 km díky výrazně energeticky efektivní konstrukci s využitím nožního pohonu spolu s elektrickým pohonem. Pracovní název tohoto projektu byl vybrán "VM45".
Dle našich analýz není takovýto typ vozidla v současné době nabízen na trhu ve variantě s typovým certifikátem. Evropská směrnice No 168/2013 definuje požadavky na tato vozidla, jež spadají pod sub-kategorii L6e-A, jako lehké silniční čtyřkolky. Tento typ vozidel již nepatří do kategorie jízdních kol a tedy je možné použít motor s vyšším nominálním výkonem než 250 W, který je povolen u jízdních kol v rámci EU. Taktéž nejvyšší povolená rychlost přípomoci je 45 km/h oproti 25 km/h v případě jízdních kol.
Jsme přesvědčeni, že na trhu vozidel pro osobní přepravu je poptávka po takovémto typu. Někteří zdatní jedinci, s lehkým WAW velomobilem nebo jiným typem, dosahují také vyšší průměrné rychlosti na méně kopcovitých cestách s kvalitním povrchem. Avšak tyto podmínky nejsou vždy možné pro všechny. Věříme, že VM45 představuje možnou odpověď pro nás ostatní. Díky výkonnějšímu elektrickému pohonu bude hmotnost méně kritickým parametrem a její jemné navýšení bude využito ke zlepšení bezpečnosti a komfortu.
Tento projekt je plánován na 2 ½ roku a v rámci výzkumu a vývoje se budeme zabývat různými variantami motorizace, transmisí, regenerací energie, převodů, řízení, odpružení, konstrukcí kapotáže atp.
Pro zvýšení úspěšnosti budou využity výrobní zkušenosti s velomobily WAW. Evidentní volbu pro toto vozidlo představuje aerodynamicky tvarovaná samonosná kompozitová karosérie jež poskytuje lehké a energeticky efektivní řešení. Nejde však jen o řešení technických otázek, taktéž požadavky pro splnění typového certifikátu musí být zvažovány již od počátku projektu.
Projekt tohoto rozsahu by bylo velmi obtížné realizovat pouze interně. Spojili jsme tedy síly s Vysokým učením technickým v Brně a podařilo se nám získat grantovou podporu Evropské unie. Také naši obchodní partneři aktivně přispívají do tohoto projektu. Velmi si ceníme této pomoci.
Plánujeme pravidelně sdílet náš postup v tomto projektu na stránce VM45